A Writer's Sketchbook - Ink
Inking is a new to me, but the ability to make dark dynamic lines delights me.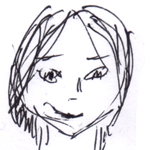 CONTINUE TO DIGITAL PAINT
Muayib Doodle
Fun Page - Have you tried this activity yet?
Loot Card Game
-- This is one of the DragonFly DaVinci's favorite card games. Play with him!