A Writer's Sketchbook - Pencil
In high school I did much better in my 3D art classes than my 2D art class. I loved sculpting and constructing, but the materials were expensive and they always seemed to make a mess, and the results could not be stored in my binders or notes.
Without a proper digital tablet and pen, I found computer paint programs awkward and the results painfully simplistic. Until I entered the realm of 3D software, I relied on the primitive (and affordable!) pencils and pen.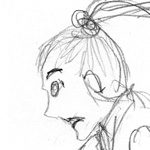 CONTINUE TO COLORED PENCIL
Asond and Tomah
Sketch - Pencil 1992
This was actually drawn sometime in the early 1990s when I was first plotting out Song of Asolde. The characters have evolved considerably since then.
Writing Quote
'When I became a man I put away childish things, including the fear of childishness and the desire to be very grown up.'
-- C. S. Lewis