Book 1 of Across a Jade Sea
He's a stranger from the other side of the world, and there sure seem to be a lot of people who want him dead, but he was willing to trade his life for hers and she's determined to deliver him safely to his destination.
2013
85000 words
Book 2 of Across a Jade Sea
2013
80000 words
Book 3 of Across a Jade Sea
2014
90000 words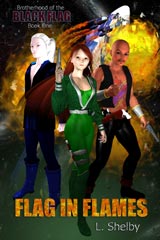 Book 1 of Brotherhood of the Black Flag
The Brotherhood of the Black Flag is a tiny fleet of pirates, maintaining a precarious existence in deep space. When two of its captains take an interest in the same girl, the conflict threatens to tear their society apart.
2013
302 pages
A 'Coral Palace' Novel
Ikhsior is a man of action. But picking up your opponents and dangling them a foot above the floor just isn't as effective as it ought to be when it comes to dealing with court intrigue, romantic entanglements, and high fashion.
2014
127000 words
A 'Coral Palace' Novel
Maintaining the social status of a penniless family is a challenge even for a man of Kide's wit and elan. Marrying the emperor's very lovely daughter seems the ideal solution -- but the princess is bound by a secret spell, and any who get close to her fall prey to its magic.
2015
113000 words
A 'Coral Palace' Novella
Murder is deadly, but in the Coral Palace the ultimate crime is telling the truth.
2014
25000 words
A 'Ice Wolf Investigations' Story
If the girl is already dead, how is she leaving footprints?
POLARIS: A Celebration of Polar Science, 2007
5000 words
---
No Longer in Print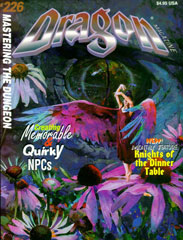 Dot to Dot
How to turn that dot on the map into an interesting small town at the drop of a die.
Dragon Magazine, 1996
4000 words
Sayings from Ialfa
'Secrets are spice'
-- A Borgim Proverb